On it's one year anniversary Vertical Wise proudly presents the first Pole Dancing short movie #ΒreatheLuv, filmed entirely by drone camera in September 2017 it is already an award-winning movie for its innovative concept. Haven't seen the film yet? Watch it today.
The film was directed by the award-winning innovative cinematographer Kostas Gur, who responded with great enthusiasm to our invitation to co-create a movie to actively contribute to the spread of Pole Dancing and its identity as fitness training. As he said:
"www.verticalwise.com has a true extrovert orientation and global impact in Pole Dance and Aerial community. I was amazed that such a small business initiative could be international player. So it seemed to me a very interesting suggestion since I always wanted to do something about sports and so I accepted without second thought."

Breathe Luv – The story
When love meets Pole Dancing
It's a "love" story where two athletes by chance meet each other on top of the mountain while practicing their favorite sport. The girl on pole dancing and the boy on motocross. After the sudden meet, a competition begins between them on the pole and finally they leave together. It's a youthful story with an amazing music.
The actors in the film are the performers of Pole Fitness, Angeliki Perra and Nael Chrysafidis, while the motocross driver Christoforos Costakis was also valuable, as a double of Nael in all the motocross scenes.

Breath Luv – The awards
Berlin Flash Film Festival, Germany, November 2017 – Winner of the category: Drone short
CinéDrones Bordeaux, France, November 2017 – Nominee of the category: Creation
NO AR International Drone Film Festival, Brazil, July 2018 – Winner of the category: Music & Art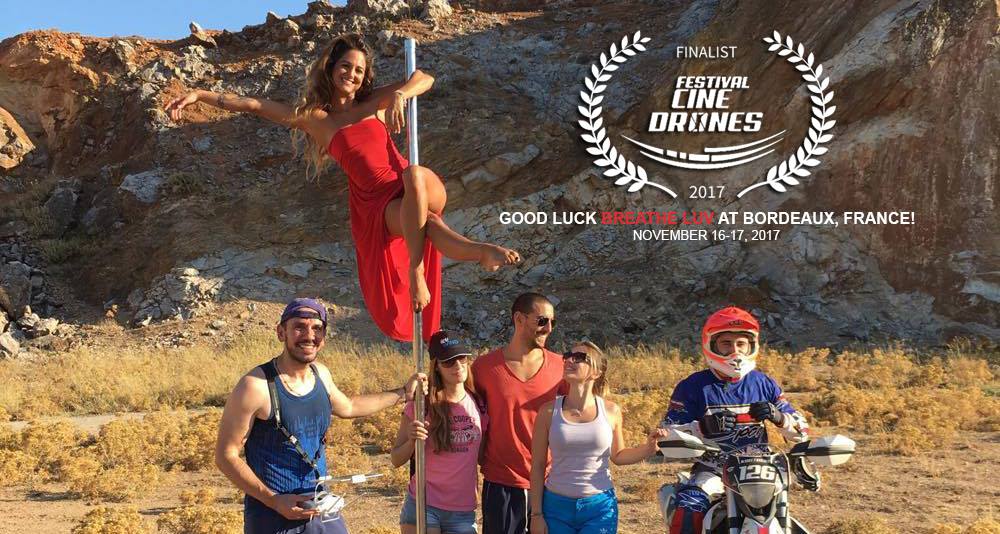 ---
Production: Vertical Wise, Dora Charisiadi and Elli Voulgari. Vertical Wise is the first hub for aerial acrobatics and pole dancing with an international presence since 2015. Visit our vertical shop.
Music: George Tzavellas – "Tzavys" from the musical theme of Vertical Wise "The Plan".
Creation – editing: Kostas Gur
*Special thank you to idrones.gr for the valuable contribution.
6 shooting days
1 location
1 pole dancing pole
1 motocross bike
2 performers
1 drone camera