Heidi Coker began Pole Dancing the summer of 2009. She believes pole is a sport where you can play to your strengths, and a perfect arena for creativity and self-expression, so we couldn't pass up the chance to interview her!
Heidi was a competitive gymnast until the age of 21, athletics were a strong part of her upbringing. After seeing an episode of "Oprah" showcasing pole dancing and female empowerment, she was instantly intrigued. Enjoying dance, yoga and other creative outlets for exercise, pole was a perfect match. After poling for a year, she submitted for a competition and was stunned when she found out she was accepted. From that point, her competitive life in pole began.  She enjoys challenging herself with new moves and adding acrobatics on and off the pole. Heidi teaches at Polelateaz in Atlanta. Let's see what she told us in her exclusive interview.
Heidi Coker we would wholeheartedly like to thank you for accepting our invitation and honouring us with your interview that is hosted here on Vertical Wise.
How did you get into Pole Dancing, and when did you decide to make it a profession?
I started Pole Dancing in the summer of 2009. I was just looking for a different kind of fitness and I saw Pole Dancing on TV. Shelia Kelly (S Factor) said not only was it great for strength, but also good for feeling empowered, sexy and feeling comfortable with your body and yourself. That was something that I wanted!! So I gave it a try. And because of my gymnastics background, I was able to incorporate a lot of the muscle memory for some of the harder tricks. I started competing in 2010 and did my first international competition in 2011. I worked a full-time job, taught at a Pole studio, and did private lessons out of my home until 2014. Working full time, trying to train and teach, was becoming way too difficult. So after 11 years of working in the school system I decided to leave my job and make Pole Dancing more of a focus and a profession. That all happened in July of 2014. I've been officially on tour and teaching Pole for one year as my main profession. However when I am home, I do still work at my other job which is been a sign language interpreter.
How long have you been Pole Dancing?
I've been Pole Dancing for six years.
Do you have any sports / dance background?
I was a competitive gymnast until the age of 21. I competed nationally and a few international competitions. I also competed on a gymnastics team in college. Dancing has always been something I loved.  As a gymnast we had some ballet training.  But for me, I always  loved to just dance.  To listen to different kinds of music and just let my body go with the beat and be free. I also did some breakdancing in my 20's.
What does your typical training day look like?
I wish I had a typical training day!!  When I worked full time, I would schedule in time to go to the studio. But since I left my job it's harder to train than I expected. If I'm on tour, there's almost no training going on. It's very hard on the body and resting becomes more important. When I'm home I let myself rest few days, and I try to at least keep up my strength and my shoulder therapy. If I do go into the studio, I am usually there about three hours and that includes working on tricks, dance and just trying to be creative. I find that if I go into the studio with too many things that I want to accomplish I get frustrated. So I focus on showing up and easing into my practice and see what goes from there. I'm not a very structured person, every time I trained it's a little bit different. I love to experiment with new moves and dance. That is really where I find my excitement for pole. But trying new things all the time is not good for consistency!!
Do you have any nemesis move?
I don't have any nemesis moves. If the move doesn't work for my body or doesn't look good on my body, I just don't do it. There's so many options of other things that we can do and try that if I know right away somethings not going to work I don't continue with it. I guess one move that I would call a nemesis is the Janeiro. It doesn't work for my body very well. I can manage to do it, but it hurts every time. Every time someone asks me to teach them I take a deep breath and explain that it's not a move meant for me!!
How has Pole Dance influenced your everyday life / family?
Pole Dancing has had a major impact on my life. It started as being a hobby that I couldn't wait to do! It gave me passion to explore and create. And then, it became my job. And sometimes I feel pressure to always come up with new moves or variations of moves. We used to post videos of dance and transitions. Now people only show 15 seconds of crazy tricks! It can be overwhelming sometimes. I want pole to feed my creativity, not be a source of stress!! In terms of my family, because I travel, it's very hard on my husband. And I love my home, so it's hard to leave my cats and my garden. My family is very supportive, and they're happy that I get to have a once in a lifetime opportunity to do what I love. I know that this life of touring won't last forever, so I'm enjoying it while it lasts.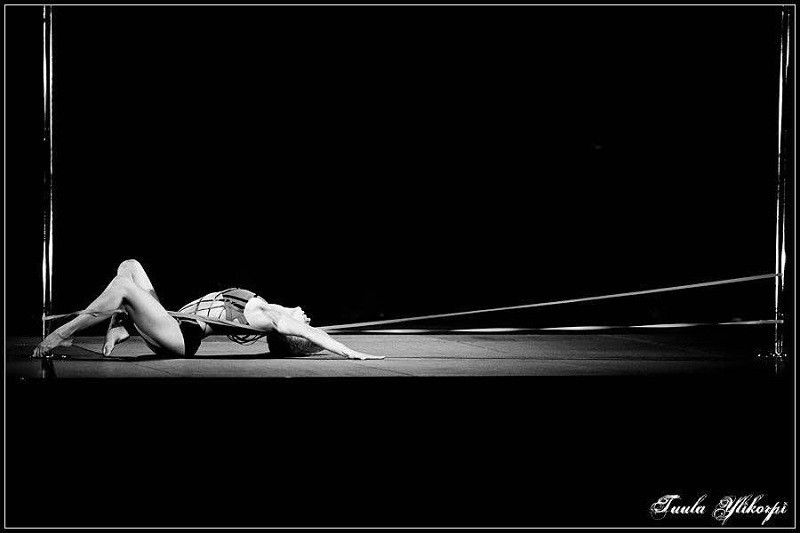 What will you change to make the Pole Dancing experience / community better?
I don't know that I would change anything to make Pole Dancing as an experience and as a community better. But I will personally continue to try and be supportive. I will do my best to encourage people of all ages and skill levels to try Pole Dancing. It is great for mind and body. It also helps us to set goals towards something and have fun while we are doing it. It gives us freedom of expression and creativity. I hope that, that continues to be a focus and not always on the biggest hardest tricks. We are a small community, and need to support each other.
Do you choreograph your own routines and if yes what / who is your inspiration?
Yes, I do all my own choreography. I don't pick up on other people's choreography very well and I really enjoy the practice of experimenting and creating. Even as a young child and gymnast, I was always dancing and freestyling (before I knew what it was called!). So I prefer to do my own work. I find inspiration from a lot of different things. Inspiration can come from other sports, interesting music, things that I see in nature that give me a certain feeling or whatever type of movement that my body is into at the moment. It could be breakdancing, yoga, or capoeira.
If we asked you to provide a training tip or advice to our readers, what that would be?
I'm not sure that I have any specific training tips. The most important is to show up and make the effort. Not everything is perfect or easy, but it's through continuing continually trying that makes all the difference. With Pole Dancing, it can be hard on her /his bodies so I do follow shoulder therapy regiment a few times a week. And I recommend that for injury prevention. I would encourage people to not always copy what they see other people do, but try to give it their own twist or variation.
How about your future steps? Are you thinking about doing something new?
I don't know what the future has for me. I try to stay open to new possibilities and new activities that come my way. Maybe I will continue to perform and compete, maybe I will try something new. Just have to wait and see what happens. I am interested in studying more capoeira and breakdancing. And possibly in learning lyra.
Where do you see Pole Dancing ten years from now?
I think in 10 years, Pole Dancing is going to be very different. I think the age of people doing it will become younger and the tricks that they do will become very intense. I think it will become gymnastics oriented and more sport like. This will be great for those who want to only focus on trick development. But hopefully we don't lose our artistry and the creativity that is involved. It is important to keep all the different aspects of pole open for people to explore. The sensual and sexy, artistic, sport, dramatic and whatever is "next", are all equally important for our personal development as a movement that is here to stay.
Heidi's titles and championships:
2010 USPDF East Coast 2nd place, and Pro status
2011 USPDF Pro finalist
2011 APFC Artist of the Year and 3rd place
2011 Pole Art finalist: Helsinki, Finland
2011 PPS Aerial Tournament 3rd place: Hong Kong
2012 Aerial Pole International, Best trick award: Berne, Switzerland
2012 APFC, Artist of the year
2013 Pole Art Champion: Helsinki, Finland
2014 IPSF top 10 finalist in London
2014 Gravity First 5th Edition Performer
2015 Australian Pole Fitness Champion
Thank you Heidi!