When I set out to create Kick Ass Curves, I had no idea of the positivity and reach it would create! You see, the reason for creating the competition was a fairly whimsical idea after discussing pole competitions with a friend, who is plus sized, and was frankly a little bit de-motivated by the current competitions on the UK scene. As a competitor myself, I completely understood what she was telling me.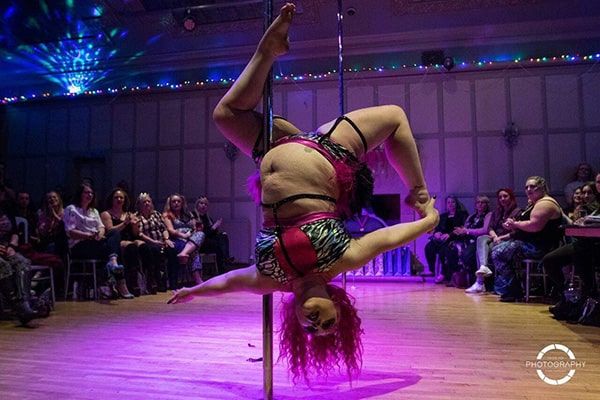 As competitions have evolved, grown, and gained social status within the pole community, the standard is growing, and rightly so. There should always be room for evolution and progression within the pole world. But as such, the ever growing standards can leave out quite a substantial part of our pole lovers. I might be what you call an old school poler, starting 9 years ago, a knee hold, a Jade split or a handspring was classed as advanced or professional. Only the most badass of badasses could do these tricks!
Yet now, these are often considered intermediate level, and with youth pole progressing, and experienced dancers and gymnasts competing in lower level student categories, it can seem daunting and impossible to compete now for your average Joe or Josephine.
But even more so for the plus size pole community, and thanks to our pole communities messages finally getting out there of body positivity, and pole being for everyone, something needed to be done to include the ever growing plus size community among polers!
And so Kick Ass Curves was born, for anyone wearing a minimum of a UK size 16, we created a fair and inclusive playing ground for people to express, compete and be a part of something positive.
Now I'm not plus size myself, and unfortunately there has been some criticism of little old me creating Kick Ass Curves….
But why not? I understand how it is to be a competitor, a judge, a student, a teacher, and the creation was born from the feelings of people within the plus size pole community.
Not from my personal experiences, but from an empathy and realisation of what was needed. Then came the criticism of the judges, now this really hurt. All I ever wanted was to create a positive event, and I was aware that some of the judging panel needed to be plus sized, but that is definitely not the only thing required across the board. What about competition experience, poling styles, industry knowledge? All of these needed to be included, after all, why would you not want feedback and advice from champions and plus sized polers alike?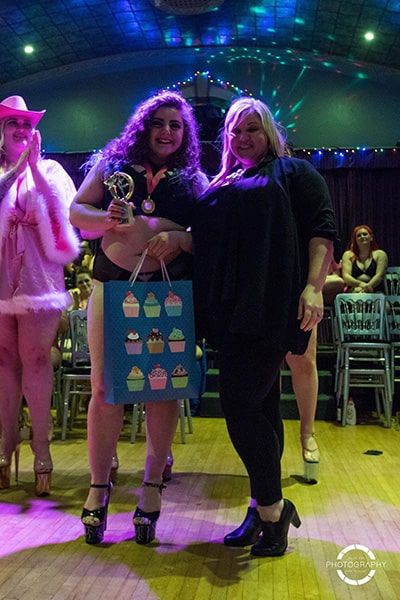 Also on my mind was the need for suitable sponsors and prizes, with dozens of pole brands out there catering for the masses, most of these brands only cater for tiny-average sized polers. And mean ass sizing at that! Wearing a UK size 8-10 myself, I often need a medium or a large! Which is crazy, my students who are a UK 'average' size 14, would struggle to buy pole wear that fits, or have to buy an XL which is de-motivating and frankly quite hurtful. Luckily there are some great pole brands out there who were super excited to get involved that actually cater for larger sizes that are more true to size! And I'm proud to say that the prize bags were bursting with awesome prizes and vouchers, and the girls that placed were super happy with what they had won!
The competition categories were also in need of careful consideration, a regular format would not do. After all, it's highly unlikely that plus sized polers are going to be able to do the more advanced tricks as quickly as someone half the size that's been doing gymnastics since they were a foetus!
But the competition itself? I'm so pleased to say that it was a sell out event (sold out in two weeks actually!), the day went smoothly, and the feedback from competitors was phenomenal! Aside from running a little late (hello, competitions), everyone was happy, there were no hiccups, the audience were buzzing, supportive and fun! The backstage competitor's area was a hive of support, help, friendship and glitter. And everyone just wanted to do it all over again, and come back for more next year! It can be daunting entering a new event as there is so much uncertainty, will it be good? Will people be nice? Will it be well run? Thank you to all our competitors who trusted us, because without a first year and first set of competitors, there wouldn't be a competition!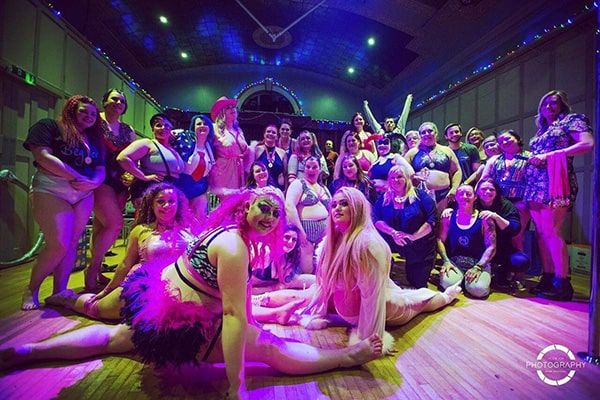 The future of Kick Ass Curves? We already secured a larger venue before the first competition. Because that was maybe the only problem, that it sold out so quickly!
In 2020 we have more categories, a bigger venue, and lots of other exciting announcements that we're not quite ready to share yet. To enter for next year, we'll be receiving entries in autumn 2019, for the next Kick Ass Curves UK final on March 14th 2020! So keep the date free and keep a look out on our Facebook and Instagram pages, give us a follow or a like and join our happy community vibe.
Facebook-Kick Ass Curves UK | Instagram-@kickasscurvesuk | Website-www.kickasscurves.co.uk | Email-kickasscurvesuk@yahoo.com