With the excuse of her visit to Greece and her participation as a judge in the 2nd Pole Battle Tricks we managed to get an exlusive interview with Phoenix Kazree and have a lovely chat with her via skype. 
You can attend online pole lessons by Phoenix via the Open Dance Academy platform.
Use the code "verticalwise" for 10% disount.
She is a former gymnast and is trained in classical, contemporary and ethnic dance styles. She traveled the Americas with the touring company of a hit Broadway Lion King show for 13 years. Her latest accomplishments are earning the title of Female Elite Champion of Pole Art Italy 2015 and Vice Champion of the female professional division of the PanAmerican Pole Championships 2015 in Rio de Janeiro, Brazil. 
Let's see what she has told us!
Are you fan of high heels?
Yes! Actually, when I first started Pole Dancing I was pole dancing in heels. Υou have the burn to walk around the pole and do sexy things! Μy very first performance ever was with high heels. But, once I started doing competition trainings most of those competitions were not with high heels so that just became what I was training for and what I did more but people don't know still, pretty much every time I train, I always warm up with my high heels with dancing and moving. Just because you have to stand a certain way! Not so much in pole dance but in dancing, we always talk about finding your center and your body balances when you standing on your two foot or your one feet, and I found that when I center myself it helps me on the pole as well to dance more technically. So, I dance in heels pretty much every day.
So high heels helps you with your pose…
Not so much my pose but my center, my alignment. Βecause you have to go up on your toes and when you are standing on your feet you have to have your feet flat so your center moves always a bit more back.
As a dancer we put on pointe shoes so the center moves forward. Same thing with heels, your center moves forward. And so, I don't wear pointe shoes anymore but I wear heels.
Before I started pole dancing I was every day doing my hair, my makeup, wore cute outfits and clothes, high heels every day and then when I started pole dancing, because pole dancing is strenuous you just want to be comfortable. So now I just wear my leggings. So when I do pole dance I put on my heels and feel like a lady!

Would you ever compete to a Pole Battle?
My very first competition ever was a Pole Battle! In Montreal, Canada. It was Dominic Lacasse who arranged this battle, in Montreal. That was first ever competition. Was me and Allegra, you know Allegra who created the "Allegra" move, Doris Arnold, Rebecca Star, Sammy Lee. I was "Oh my God these people", they are so amazing and I have been pole dancing for 9 months. And I competed on this battle.
Are you planning to do it again or not?
Dominic never doing it again. He did that time and that was it. So, I had never seen a Pole Battle again after that until now.
Do you want to add something else from your stay here in Greece?
I just wanted to say that I think that the Greek people are very-very warm and very welcoming. Most people say that when they come to Greece. They are very warm, they want to take care of you, to make sure that you are well. I always go to places to work and I always find people that are nice and I make friends and Greece is one of those places. People are great. I only saw 2 cities in your country, Athens and Thessaloniki, they are beautiful. I want to see more, I want to return.
Phoenix during her stay in Greece gave a workshop to Vertical Divas Studio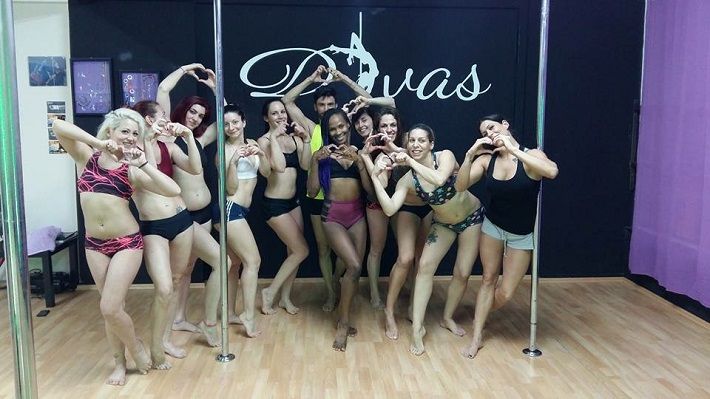 And at Polosi Pole Studio too
Thank you for all these kind words for us and our country, really! So, just to give some focus to you now! Are you a tricks person or a dance person?
I am actually both. The think with me is that when I prepare a performance because I am a dancer, I am an artist but before everything that I was also an athlete, I was a gymnast and a lot of people don't know that I was a competitive gymnast. I started gymnastics at 5 years old and I continued till I was 17. And so I have a very acrobatic background. I do a lot more tricks than people know. I post some things on Instagram but when I prepare a performance for competition or showcase it's important to me that the content of that fits whatever I am dancing about whether it is a character or an emotion or just trying to convey an idea. If my biggest trick doesn't fit that it doesn't go in, I don't care. So, I don't necessary showcase my tricks when I do performances but I do them. All the fonjis and backflips, all that stuff I can do it. I teach it.
People when they come to my workshops are very surprised with what I am teaching and so… yes I am definitely both! I find myself very balanced as pole dancer, I have acrobatics, I have fluidity, I can dance, I have flexibility and I can bring emotion to the stage. So I want to make sure that whenever I perform I have all of those elements equally and one, not just a lot of tricks and a little bit of dance or a lot of dance and a little bit of tricks. So because I make sure that I have balance in everything, I don't have time to do a lot of tricks in my routine. But, I love to train them, they're fun. But it's like even as dancer, technically in class we learn a lot of dance elements. But when it's time to perform they don't all have a place in the performance's piece. A performance piece is about performance and for me only things that fit the performance or fit with the music are going to make it.
You mentioned Instagram and we would like to ask you about the exposure on social media. Now everyone can be famous. What is your relationship with social media? Love them? Hate them?
Everyone can see that everyone can do a lot of things. If I can walk down a street without a bodyguard I am not famous. I don't consider myself famous, or pole star, pole celebrity all of those words that people say. I am world known for what I do.
I feel that you have to be present. For me social media is a way to share things about what I do that make me proud whether it's something that I accomplish or something that I see someone else do that I think is awesome. I love to share that, to give credit to all the people who are learning. I remember when I first started learning pole dancing my style was very different and I remember when I gοt a compliment from Nadia Sharif or Alethea Austin or Jenyne Butterfly or Karol Helms how good that made me feel! So I make sure that I do that in others.
Also I think that social media is so relevant because it's free promotion. Without it we wouldn't have been able to show what we can do to people around the world, who knows maybe we wouldn't have pole idols, pole celebrities or stars because no one would be able to find the type of marketing that make them known worldwide in order to be able to do world tours. So I never ever complain about social media, even though sometimes it takes more of my time that I would like but it is either give my time to social media or give my dollars to promote. So I 'd rather give a few hours a day into that.
About staying famous and be out there, it's not just to do amazing tricks but also should be to showcase things that are relevant to all levels. If you only post "Oh, I can do all of these difficult tricks every day" and you get out there to do workshops, you 'd have a very small number of followers. The people who are more beginner or intermediate level will be afraid to do your workshops.
So you must show that you are approachable to all levels and you also have to have something different from other teachers.
I think what helps me continue to be able to travel the world is that not only I can do the tricks but I can offer different ways to get into and out of them so to create transitions. I can help cleaning up your lines, I can offer dance workshops, flexibility workshops, I have a wide variety of things that I can teach and I also know that I am a fantastic teacher because I am teaching since I was 11 years old. At that age not pole dance but when we were at that certain age we started to help warming up the younger kids and helping to spot. So I have been teaching gymnastics I have been teaching dance. I am 40 years old now so I have been teaching everything for 30 years. Another thing… Just people can do amazing things doesn't mean that can teach it. I can show you the order of the moves and that is to me, I always say, like a glorified pole jam. Because my body is different, my body is proportionally different. But a good teacher is going to teach the student not just how to do the tricks but how to learn! How to learn your body and how your body proportions changes every way it shifts to the pole, how your hand should be in a relationship to your foot so hopefully my goal after my workshops is not just for these people to learn tricks but to make easier for them to learn anything else that happens after.
So that have always been my thing. In dance we have teachers in workshops who have been in the industry, who really now. People who do workshops are usually like legendary. They have really something to share. So that is what I am trying to do with my workshops. Give philosophies, strengths and passion about it. I always go in and people would say "Oh, ok but I prefer it to do it this way". Well that is fine but you didn't come to my workshop to do what you prefer, you came to learn something new. So, I am teaching you a new way to do it so you can learn new ways to approach everything else. So, I think when I say that to people it changes their mindset. It makes you more open to learn new things in different ways which is so important.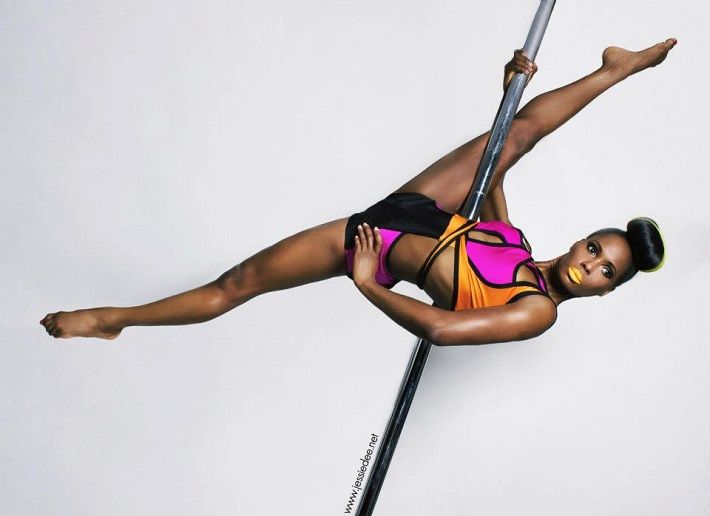 When you first started pole dancing did you expect this publicity?
No, absolutely not. I think the thing with pole dancing which is so different about now is that when I started pole dancing there were very few of these star idols, celebrities, so I never thought I was going to make it there. That is not even your desire. Your desire is just to pole dance. I think that now, people come in and they are like "Oh, my God I have to be really good so I can win a competition, so I can be famous so I can do workshops". That was never my thing. My thing was always "I just want to Pole Dance!". I wanted to be good. I wanted to do all the things that my instructors could do. I already had an amazing job and I have never ever thought that I would ever leave that job to do pole dancing! I was like "I do this. This my work which I love. It is artistic, it is movement, it makes me lots of money". Pole dancing was my hobby even if I was doing it four hours a day. In social media like YouTube, I wasn't posting for people to see, to share or like on. I was posting things at the time but mostly I was posting a submission to a competition and people noticed me from that because it was so different.
Phoenix what about this period of your life? Your job actually is pole dance?
Yes
So, pole dancing workshops! Travelling around the world. We saw your program from your website, you are each month, even day to a different place. How is this life for you? Is something that you enjoy?
Yes, I have always been a traveler. My job before that, with the Disney Lion King, it was a tour. And our contract was 52 weeks per year. So we were always working. For thirteen years I was travelling. And the people always ask me "You have a family, you have a husband, and you have a son. How do you do that? How do you travel so much? When I was travelling I manage to see my family maybe once a month and some of the days off and in the summer vacations… when my son have vacation from school.
How old is he?
Now he is fifteen. But now that I am pole dancing I can be home for two or three weeks at time for month. I make my own schedule. I travel when I want to and when I need to. I don't have to miss birthdays or holidays anymore! So it is great! I actually get to see a lot more exotic places! So I love it. I love it because I travel, I get to see exotic places, I get to meet amazing people and I still get to spend more time with my family than I had in the past decade. So for me is perfect.
And how you stay fit?
It is so hard!! Because pole dance is very anaerobic it is more strength based and the only time I feel I am totally in shape is when I am preparing for a performance. Cause that is when it becomes cardio. So, I try to go to the gym late at night when the big aerobic room is open and I just dance. Which is also something that I miss… because when you are dancing on the pole sometimes the pole is in the way! I just want to dance and if you dance straight for ten or fifteen minutes you are sweating! That is the way I exercise. But the thing that makes it more difficult for me about staying fit is eating habits. So when you are travelling to amazing countries like Greece, with amazing food… that is what makes it hard.
How come and you started Pole Dance? You were font of dance…
Yes I was font of dance but I also have always been very fitness oriented. I have always been a mover. I did Τae Βo, gymnastics, yoga… Anything that I was able to move… I loved it. So, five years ago I was with my show in Sault Lake City, Utah and there was nothing to do there. The only thing I did was after my show I went to gym late at night… and that's it! So I was looking in their local magazine for something like concerts or museums, galleries… things that I could do because I was bored, and I found a big ad for pole dancing and I was like "What is this Pole Dancing? It looks cool!" So I went to the intro class and because I was already strong, class was not challenging for me. It was very easy. But it was fun! I continued and I wanted to share this experience with my friends. So I was waiting for my taxi to pick me up and I heard the owner of the studio booking a pole party. I asked her what is this all about and told me that we bring friends, we do pole, we have champagne, and we have fun. So I booked a party and I invited all the women from my show. The instructor was amazing, we had so much fun… but at the end she did a demonstration and I was like "Oh my God". It was more than just walking around the pole and doing turns and crawling on the floor. She was like doing superman and Jades splits and handsprings… and I was like "I didn't learn this in my class". I started private lessons with her and in the first week I was doing superman and then… we had to move with my show cause we had to move every four to six weeks. I was devastated… because I thought that maybe there was no other place that I can do pole dance! But then, I found out that in the next city was pole dance as well so yeah! Every time I moved I changed pole dance schools.
When you decided that Pole Dance is your next job?
I left my job in October of 2014.  At the end of 2012 I started doing skype lessons with girls that where doing competitions in Europe and Australia.  I was already doing skype lessons in US. And I was doing a lot of them! Eventually I got tired. I was not getting any sleep! The thing was that, doing Pole Dancing I was actually making almost the same amount of money that I was making doing my show. So I had two full incomes and I had to decide. I couldn't do both. That is when I did my first Pole Dance European tour. I came to Europe and I took a leave of absence from work… actually did a world tour to see if I would liked it and I love it! That is when I decided that I was trying to make Pole Dancing my main job.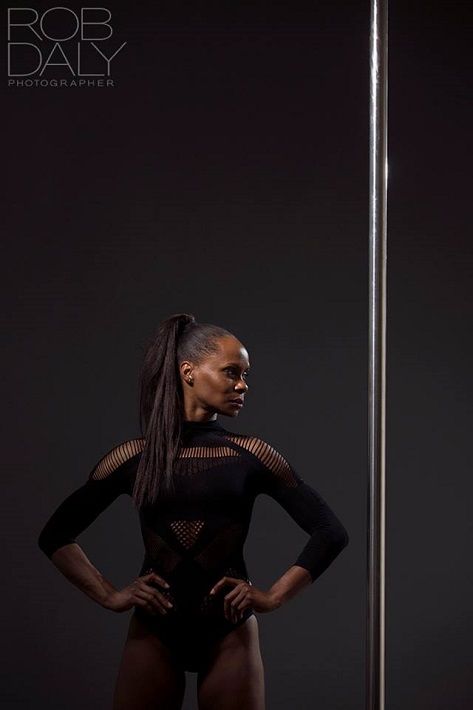 How would you describe your style in Pole Dancing?
Good question… that is funny because I have many styles. I don't have a style. The term "Kazree flow" came from people because my first Pole Dancing videos were always really slow and fluent but when I dance, I love to dance with more power, more energy. When I was putting together my submission videos for competitions and I tried to do pole tricks and dance with power and energy off of the pole…. I didn't have the endurance for that. So that's when I decided that I needed to slow down my dance, so to my first three submission videos I was dancing very fluidly and lyrical and so people started saying "Flow, Kazree flow, that is the way you dance".  If that is what people expect from me, then that is what I am going to give them. On the contrary, if you look at my competition videos, there are very few competitions where I actually dance slowly. I dance with a lot more power. I like power, I like dynamics. I always say dance has to go up and down. Even it is dynamic the whole way or it is slow the whole way, it is boring. It is dead. It has to go up and down. It has to be moments of stillness, moments of quick burst energy. That is what makes a performance exciting. So that is the kind of performer I like to be. Who is dynamic, powerful, who can still be soft.
Thank you Phoenix!
You can attend online pole lessons by Phoenix via the Open Dance Academy platform.
Use the code "verticalwise" for 10% disount.