Time for our next review! Vertical Wise will always find credible reviews because they are tested by us so that you can make the most out of the various products for pole dancers! Lupit Pole Crash Mat Review: The Best Protective Mattresses for Pole Dancing
Crash mats are an essential part of safety measures for pole dance, especially for beginners who are learning new moves.
Most pole dance crash mats are usually round with a hole in the middle for the pole to fit into and are folded into parts.
Is it suitable for me?
If you're wondering if the Lupit Pole Crash Mat is suitable for you, we have prepared a detailed and honest review that gives you a complete picture of the characteristics of the product, its advantages, disadvantages and whether it is worth the investment.
Why do I need a Dance Pole Crash Mat?
Safety! Whether you're a beginner or a Pro, trust us, you don't want to experience falling without a crash mat.
Confidence! Having a soft layer below means you can practice without fear of being hit.

What should I pay attention to when buying a Dance Pole Crash Mat?
When you buy a crash mat, you should definitely buy one specially designed for pole dancing.
Lupit Dance Pole Crash Mat – Features
Lupit is a world-renowned manufacturer of pole dance products. They don't have a wide variety of Poles and accessories, but whatever they manufacture is top quality, designed by experts and professionals, and who have ensured that the product has gone through a lot of testing to ensure that they can withstand heavy use.
They also have high-quality Pole Crash Mats which will surely save you from injuries in case you slip from the pole.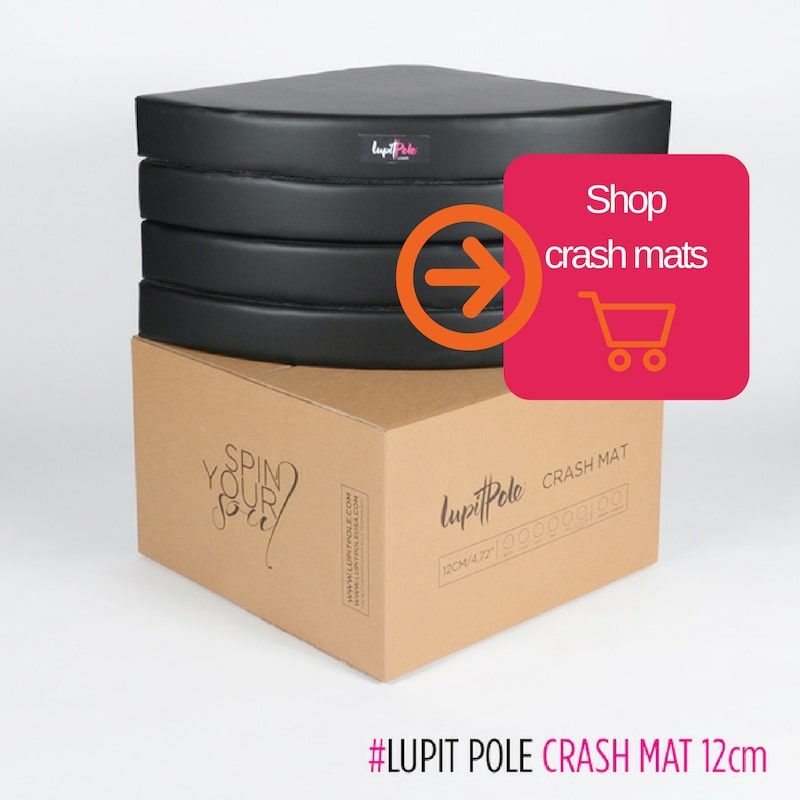 High-quality materials – The foam is a high-quality foam polyethene (EPE), which is strong, tough and has great impact resistance.
Rubber construction with high-quality leather.
Available in 3 different thicknesses:
o 4 cm
o 8cm
o 12cm
Available in 4 different colors (Black, Gold, Silver and Pink)
Large Diameter – Diameter 1500 mm – allows for practice without the need to utilize a second mattress to provide a larger landing area
Anti-slip bottom side – the layer doesn't move when used.
Folding design – which allows quick installation and storage, with handles for easy transport.
Compatible with all sizes of Poles, so it doesn't matter if your pole system is 40mm, 45mm or 50mm.
Received in a beautiful storage box!
Advantages of Lupit Pole Dance Mat
Lupit is a well known company so you know that you can trust its products.
It is made from high quality materials that will last for a long time.
No slipping from its position.
You can select the color and thickness that suits you!
The storage box is sturdy and well designed.
Available in 4 different colors (Black, Gold, Silver or Pink).
Large diameter – 1500 mm Diameter – provides a greater landing surface.
Disadvantages of Lupit Pole Crash Dance Mat
Almost none! The cost is an issue, but you will have the product for a lifetime! Lupit series Crash Mats are expensive compared to other brands, but the cost directly reflects the quality of the materials used in the production of Crash Mats. 
Conclusion
Overall, Lupit Pole's crash mats are an excellent investment for pole dancers who want to protect their bodies during training and performances. With their thick foam padding and durable vinyl cover, they provide a safe and stable landing surface for even the most advanced moves. Plus, they come in a variety of sizes and colors to suit any space or style. If you're ready to buy a Lupit Pole crash mat, head over to our e-shop to check out our selection and order yours today! Shop with confidence, knowing that we offer only the highest quality products for your pole dancing needs.