Backbend flexibility. There are 3 different places the back bends. Everyone bends differently, but the most common area is the lower back. Think about it, there is no ribcage in our lower back to stop or hinder us from bending there.
[bctt tweet=" Everyone bends differently, but the most common area is the lower back." username="verticalwise"]
The lower back usually opens up the fastest because of this reason. However, it can also get pinched easily if there is too much-forced compression. You want to think about lifting and extending through the hip, chest and throat joints to prevent lower back compression in the future.
The mid-back is more difficult to bend because the ribcage muscles have to learn to expand on the front side body.
In addition to that, the muscles along the back of the ribs have to learn to contract and bend. A lot of people hold stress/tension is this area, especially those sitting at a desk all day hunching forward. This puts stress on these muscles, which causes them to overstretch and become weak over time.
The neck is similar to the lower back. There isn't much holding this set of joint back because there aren't any bones surrounding the cervical spine. However, just like with the mid-back, many people hold stress/tension is this area.
The neck is a very important part of back bending, especially in cheststands because you need to extend and elongate to prevent pinching in the neck.
If you like our stories, there is an easy way to stay updated:
Follow @verticalwise
Below are three examples of the backbend discussed above.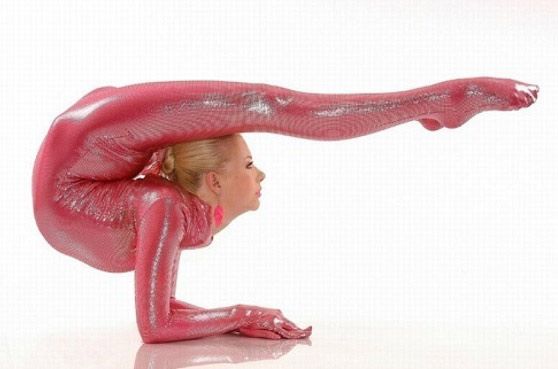 The above photo shows flexibility only in the lower back. Above that, the back is completely straight and the booty sits on the mid part of the back. Thus, making this a backbend that is localized in only a few lumbar vertebrae.
Here we see the bend is more or less equal along the whole back. The backbend isn't completely in just one area. The entire spine is being utilized to create the bend in the back. The booty is now over the crown of the head rather than sitting on the back itself.
In this photo we notice the most dramatic bend is in the neck. The upper, mid, and lower back are completely wrapped around the head. And the booty has shifted even more forward in front of the head and face.
Read also: Expert flexibility secrets by Betsy Shuttleworth to take your contortion skills to the next level
If you like our stories, there is an easy way to stay updated:
Follow @verticalwise