Aerial activities and Pole Dance for Kids. Have you ever considered them a good match?
The time has come to learn more on the subject through testimonials and opinions from parents, kids, teachers, psychologists and experts of Pole and Aerial Fitness such as our very own world-renowned star athletes: Phoenix Kazree, Heidi Coker, Tracey Simmonds, Polina Syniachenko, Hanka Venselaar and Alessandra Marchetti.
Children and parents share with us the reasons why they chose this new, dynamic and for many, dangerous sport that is filled with controversy. How do kids see it? Is it safe for young children? Is it received well by the child's and parents' social environment?
One thing you might notice right away is that all 4 sets of parents and their kids are very enthusiastic with this choice of exercise. We should point out that the kids did not know anything about the sport before they started. One more important factor is that the kids are having fun and are not bored at all. Also, the sport has taught them to have more confidence in themselves and control over their body and their movement. Moreover, the parents highly recommend this kind of sport and as long as the child seems genuinely interested in pole and aerial activities, parents should be encouraging and help their kids get to know it better.
But we think we've said enough… let's leave the parents, kids and experts speak for themselves and give us an inside view into the world of Pole and Aerial sports for kids!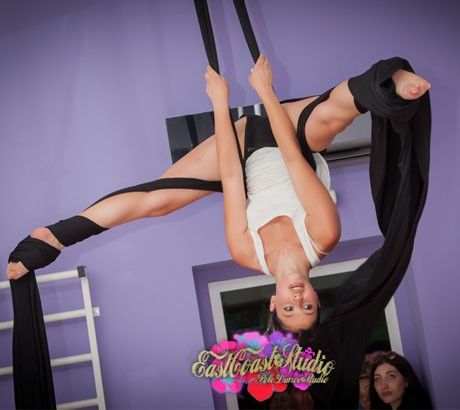 Natalia Achladi, 15 years old
I have been doing Pole and aerial over the past 2 years. It was my idea to start Pole and Aerial Fitness when a new school opened in the area and it seemed interesting to me. Before I start, I didn't have a clue. But now I think it is a very difficult and magnificent sport that exercises and helps your whole body. Some might consider dangerous but I don't as I have appropriate guidance and supervision which make it absolutely safe. My dream is to take part in a competition and I hope to accomplish this soon.
Nefeli-Iounia Viadi, 12 years old
I have been doing Pole and aerial over the past 2 years. It was my idea to take up this hobby. Before I start having lessons I didn't know anything about it and I hadn't formed an opinion. But now I can say that I really like it! I think it is dangerous because one must have strong hands. In school, most children support me for what I do and wouldn't change it for anything else. Finally, I would love to take part in a championship competition.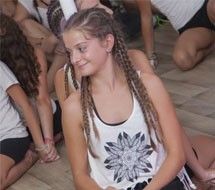 Lydia Kanellopoulou, 12 years old
I have been doing Pole & Aerial Fitness for 2 years . It all basically started when my mum started doing Pole Dance and one day she took me with her. At first, I had no idea what it was about. Now, however, I find it perfect and it is the most powerful training I could ever possibly do! I would say that it's quite a dangerous sport but I do not believe that the moves are dangerous for me. What I would really like is to take part in a competition.
Sophia Androutsopoulou, 10 years old
I have been doing Pole & Aerial Fitness for 2.5 years. The idea to start pole dance and aerial was my Mum's and when I started I really liked my teacher. Before I started I didn't know anything about it at all. But now that I've started, I want it to be my only extracurricular activity! There are so many tricks that you can learn! I would like to be given the chance to take part in a competition for children.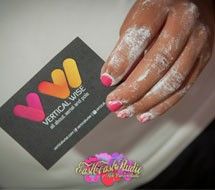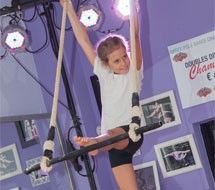 Vassilis Ahladis, Natalia's father
It was her choice and we respected her wish. As parents we have heard negative comments from others and our response is that if our child is happy with her choice so are we. Most people's reaction when they hear about Natalia's hobby is undemonstrative. Regarding the aerial , they consider it a very good workout while they are biased against pole dancing. Natalia feels happy and joyful. I would suggest it to other parents if it interests their child. Regarding her participation in a competition, we would have no problem if she expressed her desire to take part.
Maria Nisioti, Sophia's Mother
Originally we wanted her to take up gymnastics. However, there wasn't a club or a school in our area, so we chose Pole as it seemed to be affiliated to gymnastics. Yes, we have heard negative comments about this choice and we answer that it is purely a kind of gymnastics without slinking or any other provocative moves. Her self-confidence has increased and her figure has become better. For these reasons, I definitely recommend it to other parents.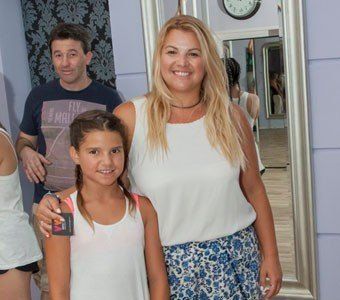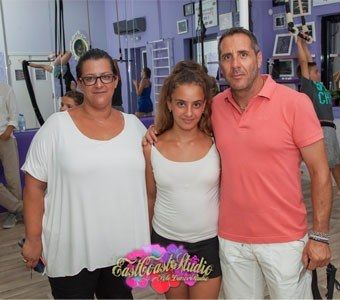 Theodore Viadis – Stamatia Ptochou, Nefeli-Iounia's parents
The choice of this hobby was clearly our child's. Regarding the negative comments, we've only heard that it is a dangerous sport. Our answer to this is that each sport has its own risks. Nefeli-Iounia feels wonderful because it's something that she chose on her own. Indeed, there are huge differences in her body, behavior and self -confidence. Because of all these, and because it is something she enjoys doing, we have recommended it to many parents and we were right because they liked it a lot.
Jenny Nikitopoulou, Lydia's Mother
Lydia was looking for something original and creative. Pole and Aerial Fitness is an alternative and interesting way of expression. People's first reaction when they hear about Lydia's hobby is to be surprised! Her grandmother is proud! We have heard few negative comments deriving from stereotypical prejudices that distinguish people who have no contact with the sport. My answer is that pole & aerial fitness is a very demanding activity, it borrows many elements from gymnastics, it stimulates perception and the child's confidence in an enjoyable way. Would I recommend it to other parents? Undoubtedly. It is no coincidence that countries with a long tradition in the field of gymnastics (U.s., Russia, China, Ukraine) have created pole & aerial fitness academies for children.
Sofia Kaltaki – Pole Athlete, Dance teacher
I have a 6 years old son and I do pole for 4 years. If my son wanted to start pole I would have no problem on the opposite I would help and encourage him greatly. There are top male athletes in the field, they can combine the pole with dancing so harmoniously that the only thing you can do is admire them.  Pole dancing and all kinds of sports or art are for everyone.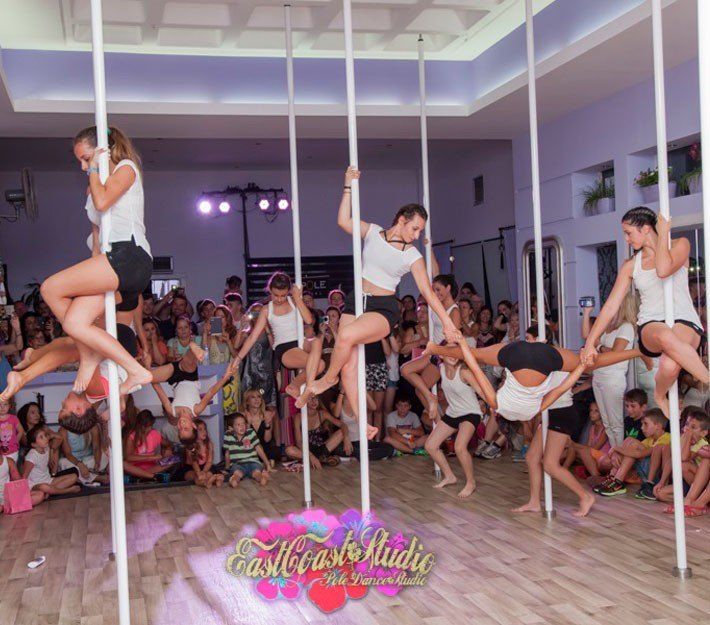 Polina Syniachenko: "I say YES!"
Doctor Medicine & Philosophy • Rheumatologist •Teacher at High School •Athlete •Artist • Dancer
I say yes! This sport will give the child the opportunity to develop strength, flexibility, endurance, sense of rhythm, but most importantly – it's a great hobby that brings children fun, pleasure and develops its positive side. If you see the child on the pole and does it cause you any sexual thoughts, then the problem is not in the pole sports or on the child – the problem is within you. I would really like to see children not afraid to tell their parents about wanting to start pole dancing, and the parents would be very proud of their achievements.
Heidi Coker: "Stress on the body like any other sport"
Competitive gymnast until the age of 21, Pole Artist
This is a highly debated and sensitive subject. I don't think the stress on the body is necessarily any different than other sports. They all have the possibility of injury and burn out on the body. I do find the fearlessness of youth, bonding strength and flexibility that can accompany it makes for a very dynamic pole athlete! However, children no matter how high of a level, should not compete with adults. Figuring out how to include pole kids into our world in a safe, productive and nurturing way will be something for us to really strive for. But something I know we can do!
Alessandra Marchetti: "Start young!"
World Pole Sports Champion 2013
In every sport is good to start young, in order to transform the body adapting it to the sport you are practising. Pole Dance is not an exception. The very important thing is to give to kids the right instruments to adapt their body to this discipline. For this reason is very important to entrust them to the right coach, who has to be a very well prepared coach, with all the knowledge about the importance of training in the young age. Said this, pole dance has also very good effects on the socialisation.
Hanka Venselaar: "I see pole as a gymnastics related sport"
Bioinformatics scientist, Former Gymnast, Pole & Aerial Artist
I do teach privates and of course, I had a few kids. With my gymnastics background, I cannot do anything else than see pole as a gymnastics related sport. And therefore I don't have any doubts that pole dancing is suitable for kids. I know some people doubt whether it is good for a developing young body, but honestly, I have seen the most difficult training regimes in gymnastics. Compared to that pole training for kids is just fun and games. (in the Netherlands that is, don't know about other countries). Pole for kids isn't any different from pole dancing for adults.
Phoenix Kazree: "Pole Dancing is absolutely appropriate"
Former Gymnast, trained in classical, contemporary and ethnic dance styles, Pole Artist
I think kids pole dancing is absolutely appropriate. It's wonderful for children to be taking part in athletic and artistic activities that allow them to develop strength, flexibility, coordination, body awareness, motor skills, and confidence while having fun and feeling like it's play time. Kids on the pole are swinging, spinning, and turning upside down just like those at the park on a jungle gym. But in a pole class, it is supervised with progressive learning by hopefully an experienced and encouraging instructor who promotes and instils the importance of safety.
Which are the benefits of Pole & Aerial Fitness? What a studio should know before launching classes for kids?
I believe that children and adolescents should take part in regular physical activities for the benefit of their physical and social well-being, so why not Pole Fitness?
Benefits of young people taking regular Pole Fitness classes:
Encourages a fit and healthy lifestyle
Encourages discipline and commitment
Improves motor skills including coordination, balance and spatial awareness
Improves strength, mobility and posture
Encourages team skills and socialisation
Any studios wishing to start teaching children's Pole Fit classes should consider some serious issues.
Children vs Teenagers: Keep these classes separate due to the differing needs of the group.
Small class sizes: Keep young people engaged and well supervised by keeping student-teacher ratios low.
Class planning: Start with a fun but thorough warm up. Plan a balanced variety of skill-based, strength, mobility and interactive exercises.
Working with minors: Instructors should be certified in Pole Fitness instruction, certified in teaching exercise to young people, Paediatric First Aid certified, insured and legally authorised to work with minors.
Written parental/guardian's consent must be provided for every child taking part in the class. Adhere to national legislation on working with and safeguarding children.
Marketing of classes for children and adolescents: Children's Pole Fit classes must be promoted thoughtfully and specifically for children and never parallel to adult 'Pole Dance' classes.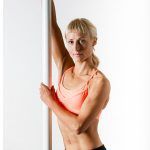 Tracey Simmonds
Pole Fitness Instructor and Pole Performer with over 10 years experience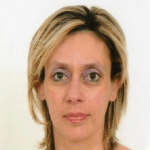 Frosso Patsos
M.Sc. Psychologist-Sports Psychologist
Research Associate Greek Athletics Team
Psychologist's opinion
Through pole dancing, kids experience feelings of joy, euphoria and competency. They amuse themselves  through such training procedures, where the child understands the personal improvement and progress and they build their self- confidence.
Pole dancing athletes have direct (positive body image, improving fitness, avoid obesity), and indirect benefits (socialization, feelings of competence-joy, increase self-confidence).
They experience fewer feelings of tension, sadness, fatigue, confusion, anxiety and high energy levels, self-esteem and self-confidence. Aerial acrobatics is definitely very entertaining and that is why it attracts a lot of people because you work out and have fun at the same time! Especially for children, it is like a playground because they climb or turn upside down! 
So when exercise is combined with fun there is more willingness and good mood. Consequently, children engaged in such an interesting, entertaining and attractive sport increase their chances to devote themselves to it with all the benefits that this entails.
Completing this case study, we can safely conclude that Pole Dance and aerial acrobatics is a combination of artistic and rhythmic gymnastics, dance and acrobatics which manage to combine excellent training while maintaining the fun experience factor. This element of fun keeps children fully present and not bored throughout the training process.
Your opinion matters! Tell us your impression about our case study in the comments form below.
Piqued your interest maybe?
Is your child involved in Pole and Aerial activities? Tell us your opinion! 
Thank you from the heart Elvira Dubbeld, owner of the EastCoast Pole Dance Studio in Nea Makri, for her valuable support in completing this case study. Also, warmly thanks to Michael Tounta, the photographer, for the material.