Fawnia Dietrich is a dance instructor, fitness model and competitor, writer and actress. Her certifications include weight training, iKick, Zumba, PiYo, and she self wrote the course for the Pole Dance Instructors Certification (PDIC). She also wrote the forward for The Complete Idiot's Guide to Exotic and Pole Dancing. In her exclusive interview she gave us below she admits that she has never taken dance lessons. She learned to dance by watching and imitating stars like Madonna! She loves to compete though the last few years she has taken a break from competing to focus on her career as a pole dancing instructor and judge. She has also created Pole Expo, a four day pole convention, hosted every September in Las Vegas.
Fawnia we would wholeheartedly like to thank you for accepting our invitation and honouring us with your interview that is hosted here on Vertical Wise. What made you first realize you wanted to pursue a Pole Dance career?
When I was very young I remember wanting to either be a singer, a dancer, or someone famous. Singing was definitely not in the cards for me, and I can admit that as I have a good ear, so I went with dancing and being 'Almost Famous.'
What is your performing experience like? How long have you been performing?
I began performing in my living room doing air bands for my family, and in elementary school I would visit the other class rooms at lunch time and dance to 'Lucky Star' by Madonna. I have never taken dance classes but loved to move and thought I was already an amazing rock star.
In high school I would enter the talent competitions, and though I was disqualified a couple times, I did place first. Guess my 'Justify My Love' show with two boys kissing next to my bed was a bit too much!
When I was 19 years old I started working as an Exotic Dancer; yes people I was a stripper and I loved it! Working in Canada in the mid 90s was actually glamorous at times, as we were on stage to 18+ minutes each show and we could put on a full production. I lost 40 pounds, travelled to a new city or country every week, and I owned 28 theme costumes. I thought I found the dream job and planned to dance forever, but then I quit after just 1.5 years.
Today you can see me performing at my studio during recitals, at fundraisers, or at home in my living room.

What does your typical training day look like?
I spent 10 years on the competitive bodybuilding, fitness and figure circuit, so I still enjoy working out in a gym setting with cardio and weights. When I have a performance to prepare for, I will set time aside to practice on the pole, but those times are extremely rare, like a flooding downpour in Las Vegas.
How pole dancing affects your family members?
My family has always been supportive of my projects, and my love of dance. When my mother learned that I began stripping back in 1994, she was defiantly concerned that I was prostituting and doing drugs, but I couldn't have been further from that. I didn't even drink coffee or sodas, let alone alcohol, plus I was so passionate about the art of dancing and downplayed the sexual overtones. I was proud to dance, and to see what I was really up to, my mother and step father came to the club to watch. I'm not going to lie, yes it was strange, and a little uncomfortable but I did my best to put on a creative and entraining show, and got an encore. One of the waitresses said that when she looked over to see my mothers reaction, my mother looked happy that I received that encore. She was proud to be my mom.
Before my grandmother passed away, she told me she was impressed that I had turned exotic dancing into a thriving business that helped women take better care of themselves. I will forever cherish her compliment as she was one of the hardest working woman I have ever met, and also a teacher.
What was the hardest thing about opening the first ever pole dance studio?
When I ask people where I could find a pole dancing school, their initial reaction was a little laughter and a comment like "There's no such thing as a pole dancing school, you just get on stage and do it."
In the beginning I would teach the dancers in the club, right there on the stage, before the club opened each day. My promotion included placing flyers under their hotel room doors, and hoping for a phone call. There would be a new group of girls in the club every Sunday, and I would always have a couple new students each week. Charging $10/hour in 1996, almost double minimum wage, and I could dance and help people, was my new dream job!
Tell us about Pole Expo. How challenging is to organize the biggest event in pole dance history and what is your favorite part about?
Putting together Pole Expo and all its elements was a massive task. For the first Pole Expo I started planning 18 months out as I really didn't know what I was doing. I remember turning on my computer and thinking to myself, well I need to start somewhere, and I just begin typing. Typing the name, date, and what I wanted people to experience, and Pole Expo grew from there. I got a tattoo on my left arm as motivation to do a little every day to help me reach my goals "There are no shortcuts to any place worth going."
My favorite part,… well I have many! I enjoy connecting with the instructors and students both in the months leading up and in person during the Expo weekend. I enjoy seeing Expo Passes and Workshops selling, not going to lie! It's a huge investment putting on a production this large and the first year I lost $28,000 Today Pole Expo has grown to be a very successful and important event to attend for studio owners, product supplies and the very enthusiastic and students and teachers from all over the world.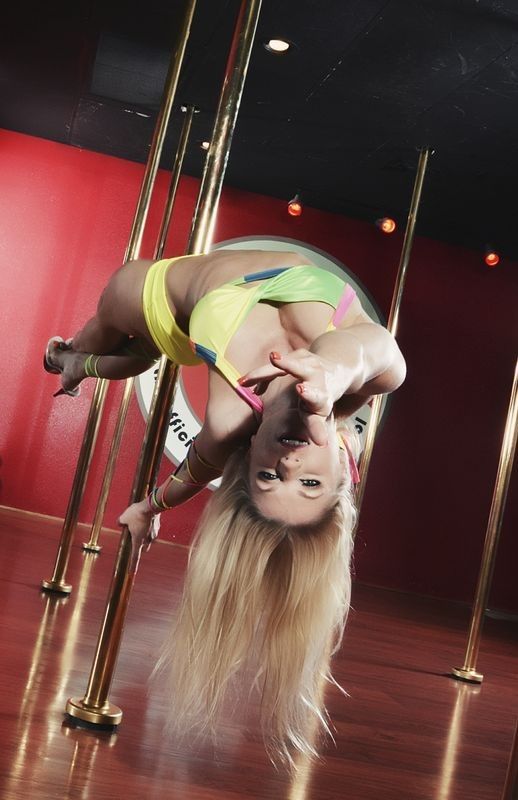 You have taught Britney Spears how to pole dance. How was the experience?
The first 20 minutes I was a little in shock but did my best to keep myself in check and treat her with a happy class experience as I do with everyone else. Then I just had to ask her, "ok what are you really here for?" Her reply was "I want to learn how to go side ways." As she motioned what resembled a flag or iron-x on the pole. Britney was quickly humbled but I did what I could to teach her a few moves that would be attainable before her ambitious iron-x.
Overall Britney was very quite and sweet. She came to Pole Fitness Studio with a friend who was really excited to be there. I hope they return for more privates, or perhaps Britney will invite me to teach her at her place.
What will you change to make the pole dancing experience/community better?
At Pole Fitness Studio we are working towards starting a kids fitness program called Pole Fitness 4 Kids! Teaching fitness and encouraging our youth to move will have a profound impact on America's future. Sure my studio is meniscal in size when compared to other fitness facilities but we will proudly touch the young lives of those who walk through our doors. In fact, I think studios, where fitness is a core value, should include a program for children to learn and be creative and passionate about dance and fitness.
At UNLV I will continue to speak to the Dance 103 class each semester, about the history of pole fitness and our future. It's very rewarding to see the students' pole awareness increase each year, from not knowing a vertical pole is used for fitness, to hearing from students who have a pole in their homes to learning that pole fitness may one day be an Olympic sport!
I think collectively, all of us being who we are, loving pole, sharing our passion with family and friends on a day to day basis is having a profound impact on societies opinion of pole dancing. It's important that we stand proud for what makes us happy.
Where do you see pole dance in 10 years?
Pole Fitness will continue to grow in popularity, and will be more accessible to both youth and men. In fact I think more men will be open to trying pole fitness without the stigma of, "oh he must be gay," or "why is HE taking pole dancing classes, is he a stripper?"
Will Pole Sport be in the Olympics? It's possible!
What do you know about Greece?
I know that Greece is a place I have always wanted to visit. I love blue and white together and I love feta cheese… but there is much more to Greece that color and food, right? I will one day find out for myself!
What else would you like people to know about your job/career?
In my spare time I am writing a book about my personal life. My world has been rather complicated the last year, and with its intensity I felt this overwhelming out pouring of emotion that has made its way to paper. Next year you can get a copy to read.
In the mean time I hope you all will join us at the Hard Rock for the 4th annual Pole Expo in Las Vegas!