Caty Mae has been involved in circus arts for over seven years. She is the Winner of the 2013 Miss Texas Pole Star Lyra Division and in 2015 was the 1st Runner UP in the Lyra Division of the US Aerial Championships. For three years, Caty Mae toured with George Carden Circus International. She spent her time performing on silks, lyra, spanish web, and several elephants.
She has shared her talents working for major companies and organizations such as Sundance TV, Silk, Dos Equis, Hendrick's Gin, A&E, Circus for Hope, Formula1, From Dusk till Dawn, Crash Alchemy, Lagunitas Brewing Company, Intel, Google, Mountain Dew and others.
Most recently, Caty Mae has been touring the country teaching her favorite disciplines and has helped judge several aerial competitions. She plans to continue to share her passions and help the circus community continue to flourish.
Caty Mae we would wholeheartedly like to thank you for accepting our invitation and honouring us with your interview that is hosted here on Vertical Wise.
What is it about aerial arts that you love so much?
I think what I love about aerial arts is its diversity. They are so many aerial apparatuses and such an array of uses for them. Weather the artist is using it to dance, showcase their strength, or tell us a story. They are a tool that advocates creativity through athleticism and it doesn't get much better for me than that.
How did you get into aerial arts, and when did you decide to make it a profession?
I got into aerial arts through Muscle Beach in Santa Monica. One day someone asked me if I was an aerialist. I didn't even know what an aerialist was at that time and then a friend of mine introduced to an aerial coach named Angel Leopold. Immediately, I started taking private lessons with him and fell in love with silks. I knew way back then I'd do whatever it took to make that my career. This was all about 7 years ago.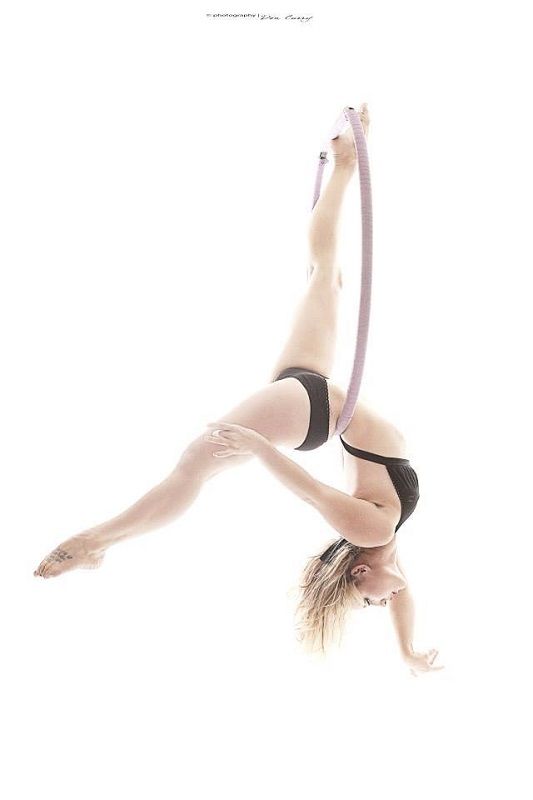 How do you discipline your body to stay fit for such a physically demanding job? What does your typical training day look like?
I have really developed a lifestyle that lending to movement. I ride my bike a lot and take a lot of different physical classes when I'm not on the road. A lot of my friends are athletes so when we hang out we usually end up stretching, or doing handstands for fun. Rest is the one part of it all that I have to maintain discipline implementing into my lifestyle. It's amazingly important and often overlooked.
What skills do you think are needed to be a successful aerialist?
I'm not really sure what qualifies as a successful aerialist but I think that anyone that takes on this beautiful art form needs to establish a lot of self-acceptance and physical forgiveness.
It can be a pretty frustrating process, especially in the beginning. One day you can have the strength of the Gods and other days you can hardly do a pull-up, and that's okay, the body can be fickle, try again tomorrow.
On the performance spectrum, there will be the same inconsistencies. You'll have "good" shows and "bad" shows and they are both equally important. Just keep in mind that all of this is learning and putting the time in. You do those two things and you will see improvement.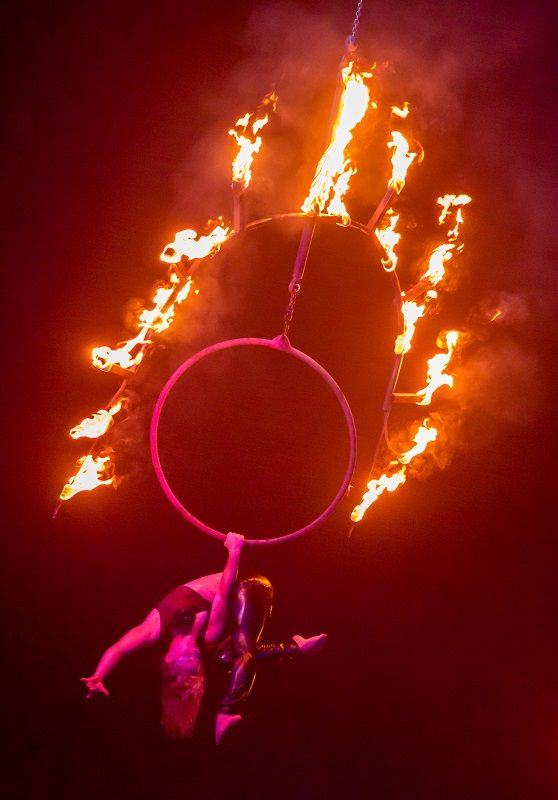 Have you ever had an accident during a performance?
I have had some very humiliating experiences in the ring but luckily nothing life threatening.
Do you choreograph your own routines and if yes what/who is your inspiration?
I do choreograph my own acts! I love to use stories and concepts to inspire me. I once heard someone say "All great art is tinged with a little black magic". I try to keep that in mind when I'm in that creative process.
What is the biggest achievement in your career?
My mother came to the US Aerial Championships this year and cried during my act (Sorry Mom!). Having her there live to watch an act I had worked so hard on was pretty pivotal for me. She had seen me perform in the air as an entertainer but never as an artist and it meant a lot to have the platform to share that with her. I also placed as First Runner Up. That whole experience was very special for me.
If not aerial arts, what else?
Goodness, all the things! Handstands, Partner Acrobatics, Contortion, Tumbling, and DANCE.. So much dance!
If we asked you to provide a training tip or advice to our readers, what that would be?
I live by this quote. "My soul is not contained within the limits of my body, my body is contained within the limitlessness of my soul" – Jim Carry
Dream big, put the time in, and keep going. Also, take ballet!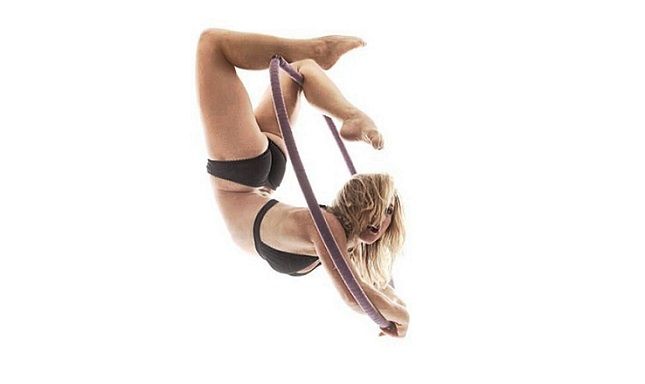 Have you made sacrifices for your career?
I've sacrificed time from my family and friends when I've spent some longer stints on the road. Also shirts that use to fit my shoulders.. I've sacrificed some of those too.
Where we could find you this time period / season?
I'm in Austin, Texas you all! I'm in my hometown working on some new projects and studying other types of movement as well as remodelling my travel trailer!
The US Aerial Championships video of this past year: https://youtu.be/mEo29MkVcmI
Thank you Caty!