Multitalented Julia Irinina is from Russia, Saint-Petersburg. She has been dancing since childhood but Pole Dancing is her passion. She actually thinks of pole as high art. She is the founder and the director of  "Pole Show Studio – Trash", pole dance instructor, choreographer, fitness instructor, judge and perfomer of pole competitions. In addition, she supervises first pole theatre in Russia and organizes the Pole Dance Show Championship "Pole Star". Also, participates in dancing ballet. Some of her students are winners of World Championships: Erika Yakovleva,Veronika Mikhaylova, Marina Bogomolova, Olga Trifonova, Irina Zelenkova. As a creative person. she is in love with life and dance.
What inspired you to take up pole dancing?
I was inspired by pole dancing many years ago. My studio was the first to specialize in pole dancing. I have never thought why. I just wanted to dance on the pole.
How long have you been pole dancing?
About 7 years.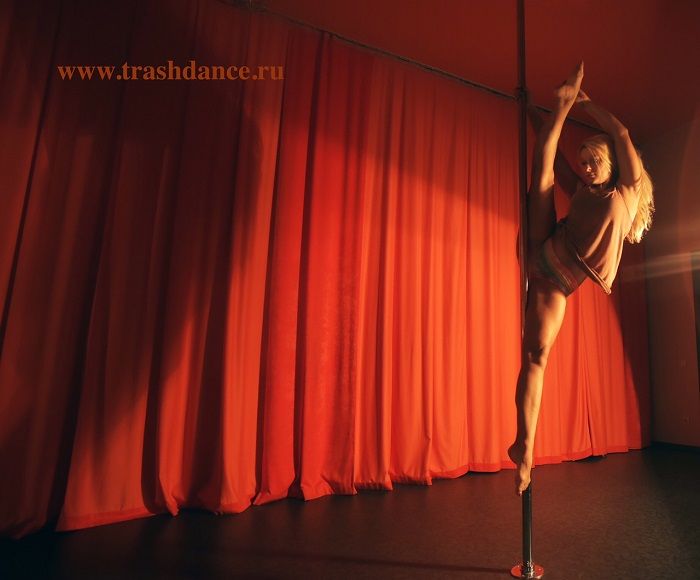 Do you have any sports/dance background?
Yes, I was a ballet dancer.
How has pole dance influenced your everyday life?
Pole dancing is an integral part of my life. I own a big studio, I spend a lot of time with my students, I organize shows and I travel a lot.
Which move has taken you the longest to learn?
Flags was not easy for me. I don't like power moves, I like moves which are graceful.
What is your typical training day?
I have many students, and unfortunately I don't have enough time for myself. I help girls with competitions and shows. I train with them about 4 hours a day. And, if I have any energy left after that, I train by myself.
What advice would you give to the newbies?
Choosing a good coach is really important.
You are the director of the pole dance theatrical group called "Trash" a show which breaks stereotypes. What is the inspiration behind?
I am the adventurous type of person. It is really hard for me to settle down because I am always on the go, seeking new experiences. I can't live in one city for more than 1-2 months. I need new information and new emotions every day. I travel a lot, I meet new people, looking for new experiences every time and everywhere. For me, it is not difficult to break stereotypes, but it is impossible to try and be like somebody else.
What would you change to make the pole dancing experience/community better?
We need peace… Too many disputes right now.
Have you ever visited Greece?
Yes of course, I have been to Greece 3 times. I once visited Rhodes and I've been to Crete twice. I wish I could visit Athens.
Where do you see pole dance in 10 years?
I hope it will be more popular with people. I hope that everyone will want to see the shows on celebrations, theaters and big stages as well.
What else would you like people to know about your job/career?
Olga is a world champion and I also have 5 champions, my students who have become prominent pole dancers. I have fulfilled my dreams to become a coach, as well as a performer.
Thank you Julia!