Thinking of buying a Portable Aerial Rig ? The X-Pole continues to be a leader in the industry, manufacturing high quality and unique products for Pole and Aerial Fitness.

In this review we will deal with the X-Pole A-Frame, the ups, the downs and what to expect from its use.
Features
Adjustable height from 2450mm – 3480mm
Made of aluminum.
The vertical rod is made of steel.
Portable (32 kg)
Bags and sand bagsi are included in the set
The recommended WWL is the 150kg including the instrument that will be hung.
Pros
It is an independent platform which means that you can use without the need of ceiling fixtures or stabilizing equipment.
The A-Frame is suitable for aerial yoga, aerial hoop, pole and aerial silks.
Can be used both indoors and outdoors.
There are various aerial rigns on the market. We looked at all of them in detail, and while it's definitely larger and more durable, is much more expensive and difficult to transport and movable by a single person.
Cons
It is not recommended for doubles, drops or movements that require large spins. For practice at home, however, it is what you need.
Just be careful when the weather is hot. As you may not realize how much energy you consume you may become dehydrated very quickly when you are exercising outside.
The A-Frame is made of aluminum, however the vertical rod is steel-is the only accessory that can rust-so we don't recommend leaving it outdoors for long periods! Keeping the A-Frame in a dry, warm environment would certainly be ideal.
Is suitable for me?
If you want to yoga, hoop or aerial silks at home, but don't want to drill the ceiling.
If you are looking for a lightweight but durable portable aerial rig that could fit in your car and be able to install it yourself.
Wondering if you have enough space?
One example: when the A-FRAME is put up at 2.3 meters high, the legs have 1.5 meter distance in depth and 2 metres in width. Measure your space and make sure you have a few meters in front of and behind the A-FRAME in case of swinging. The more the height increases the more the distance between the legs widens. The maximum height of 9 square meters are needed. The feet would have to been spaced 3 metres.
What to wear
As far as dressing – avoid loose clothing. When you use an aerial hoop it is important to wear clothing that covers the back of the knees. When you use Aerial Silks prefer cotton garments rather than Lycra. Long hair should be pulled back. Usually aerial stunts done barefoot for a better grip. Leggings and tight t-shirts are that best to wear unlike shorts and short tops. Do not wear jewellery and watches.
What you shouldn't wear in Aerial Acrobatics 
Safety first
The use of A-FRAME must be done responsibly as improper use may be dangerous, not only for the users but also for those around him. If at any time while using the A-FRAME, youfeel uncomfortable, get sick or have shortness of breath-take a break. Always rest between movements and training. If you experience any health problems, seek medical advice.
Where can I buy it?
In our eShop!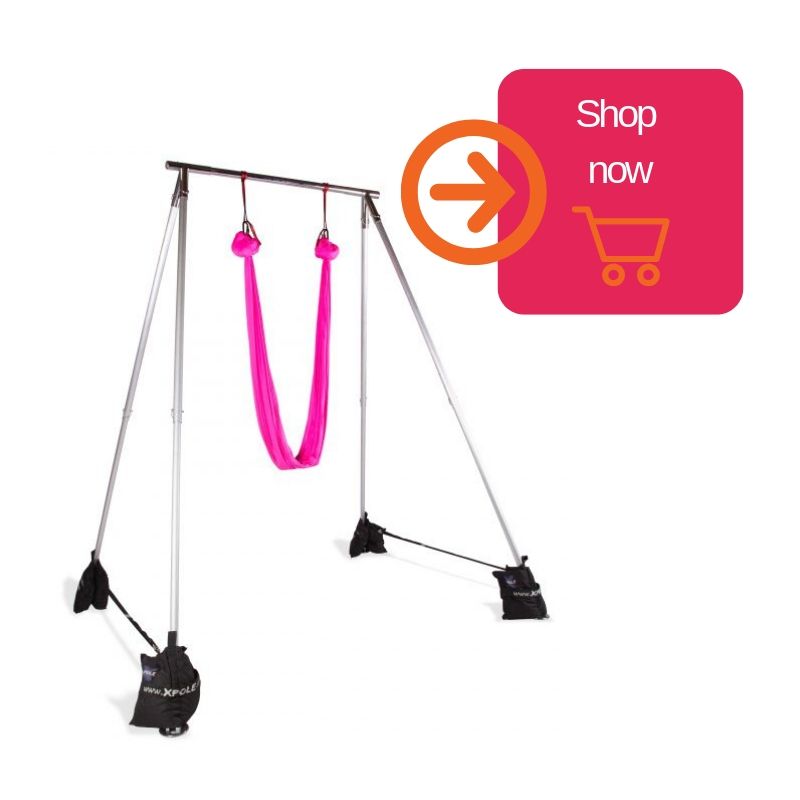 Have fun with the A-FRAME!